Green smoothies are filled with green leafy veggies. But they are so tasty, you won't even know you are eating them. The addition of a half of an avocado to this green smoothie adds a creamy twist to the classic green smoothie.  This is the smoothie I recommend to all my friends who are skeptical about drinking anything GREEN.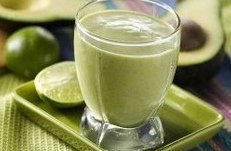 Ingredients
8 oz. filtered water
handful of baby spinach
½ of a ripe avocado (if you are looking for something super
creamy and comforting – especially during colder months – add the whole avocado)
½ of a banana
1/2 of a lime
handful of ice
Directions
Combine the ingredients listed above into a blender. Any blender will do, though a high power blender makes the smoothies even creamier and more delicious. Add water and ice to thin or thicken as desired. Make sure the ice is fully blended. Top with squeeze of lime if desired.